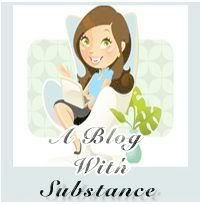 [ sorry it took me so long to post this Jen I had no time on vacay!]
I got another award :) This time the lovely Jennifer was kind enough to give it to me :) Go check her out if you don't already!! You'll be glad you did :) Thanks for thinking of me, I appreciate it!! :)
Here are the rules for this one :

• Thank the blogger who awarded it to you.
*see above
• Sum up your blogging philosophy, motivation, and experience using five words.
*Cherish every moment and day :)
• Pass it on to 10 other blogs which you feel have real substance.
[ I could only come up w/ 7. I'm fairly new here I gotta get some more bloggy friends!! :) ]
Amber
Jana

Mandy
Michelle
Shanna
Ian
Jacqui