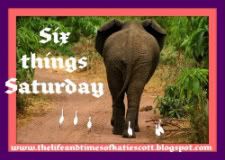 What is Six things Saturday (STS)?: Six things Saturday is where you write Six things that you have LIKED or DISLIKED or a mixture of BOTH from the last week!
Like no I love this one~ being told by my doctor that I am in confirmed partial remission!!!!!
Dislike~ hunting season. Hubs is gone every chance he gets. Setting stuff up, scouting, getting new stuff. He can't even actually hunt until October!!!
Like~ finally winning a CSN giveaway!!
~J
made my day :)
Dislike~ that we got a ton of water in our basement after it rained the other day :/ There is NO way the previous owners didn't not know that the basement leaked....grrrrr
Like~ that bedtime is no longer a battle now that Nathan goes to school all day!!!
Like~ that fall seems to be here to stay!! Bring on the jeans & hoodies everyday baby!! :]
I also want to wish Katie a

HAPPY BIRTHDAY!!!!!!!!!

I hope you had a great day girl!!!
You can add all my extra entries to the Charm Factory giveaway :)