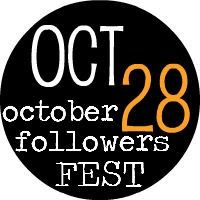 I found this blog hop PAR-TAY from the lovely
Raven
. Since I'm on the hunt for some new bloggy friends & followers I just had to link up =)) So I'm going to tell you a little bit about little ole moi :)
I have the biggest sweet tooth. Reese's PB Cups are my fave. They are even better if they are cold. Yum!
I am addicted to ice. I never leave the house with out a big glass of it.
I love to read. True crime books are my fave. My hubby always jokes that I'm planning the perfect way to off him and get way with it. lol
My two boys mean THE WORLD to me. Being a mom is the absolute greatest gift EVER.
I'm going to leave off there and let you all ask me what ever you want. I'll answer anything you ask :)
Have a good weekend!! Be on the lookout for some reviews and giveaways I have coming up from EdenFantasys, Lovable Labels, Shutterfly and my 250 follower giveaway sponsored by me =))
XoXo