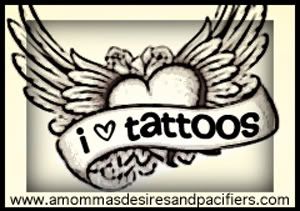 I'm linking up with the fabulous Raven over @
A Momma's Desires and Pacifers.
I LOVE tattoos! I always thought I'd end up with one but after the first one I was addicted. I have 5 right now and I want at least 2 more.
#1~My tramp stamp. I was 19 or 20 when I got this. It hurt like a bish!! The people in the waiting room thought I was going to pass out.
#2~ a purple daisy on my shoulder.
#3~ a kinda creepy butterfly on my ankle.
#4~ a butterfly on my other ankle. I wish it was a little bigger so it wasn't so dark.
This one I think I want on my wrist. Again with a black ribbon.
Then I want a tattoo for my kids. I just don't know how or where I want it yet. Decisions decisions!! So go over to
Raven's
and check out all the awesome tatts!!!
So you have any tattoos? Do you want some?