I'm getting ready to go to the hospital this morning to start round 6 of my chemo pills. Five years ago today I was getting ready to go to the hospital to get induced. Nathan was 9 days overdue and had no plans on coming out on his own! I never would have thought that 5 years could fly by
so
fast. I surely never would have thought that after having my babies I'd be in for the fight of my life.
For them I'd do
ANYTHING
any Mommy worth a damn would.
It's crazy how he went from this...
15 minutes old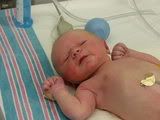 to this....
4 1/2 years old!!!
Mommy loves you Nathaniel Thomas!!!!!