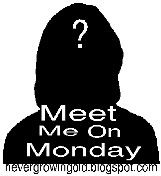 1. What do your normally eat for breakfast? Depends on my mood. Sometimes a bagel. Or a granola bar. Or scrambled eggs & fried potatoes. Sometimes nothing.
2. What kind of car do you drive? A black Ford Fusion.
3. Have you ever met a famous person(s)? I've met a ton of
athletes
and some musicians. I won't list ALL of them because I'd be here forever but some of my faves have been: GORDIE HOWE, Chris Osgood, Kris Draper, John Wharton, Sergei
Federov
, Vladimir
Konstantinov
,
Everclear
, Our Lady Peace, Mighty Mighty
Bosstones
.
4. What is your favorite ice cream flavor? Chocolate
Moosetracks
5. Which TV Channel do you watch the most? Nick Jr! I like E!, the History Channel, Discovery Channel and Food Network.