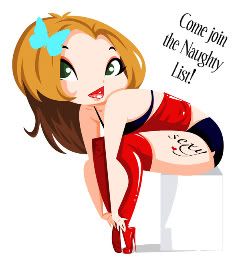 1. What time of day are you generally in the mood?
Unfortunately I'm hardly ever in the mood. Feeling like shit all the time and decreased libido are side effects of almost all my meds. I do have my moments though and then Nick is a very happy boy ;) I do give hubs lots of BJ's so he's not totally deprived....
2. Have you ever had sex at work? Would you?
When I worked midnights I have done it in the parking lot....shhhh!!
3. Ever had a moment as a mom/wife/friend where you thought MAN I am a horrible mom/wife/friend and I just don't care right now? Explain.
I have lots of moments where I feel bad. But I do care. I know it's not my fault & I have no control over how sick I feel but what can ya do??
4. What is the sexiest thing you own?
I have this black nightie that make my tits look HOT & just barely covers my ass....we both LOVE it ;) I also have a black silky tank top/short short pj set...HOTTNESS bitches!! Big girls can rock it too ;)
5. Name a sexual regret from your youth.
A guy named Johnny when Nick and I were broken up for our longest stretch of time. His dick was the size of my pinkie, no joke. And he would push my head down when I was blowing him. I still freak out if Nick accidentally touches my head when I'm going down on him. I only had sex w/ him once and blew him once or twice but he was a BIG guy and he scared me. I felt like if I didn't give it up he was going to take it either way. I so wish I had never met him....
~~~~~~~~~~~~~~~~~~~~~~~~~~~~~~~~~~~
I'm still feeling pretty shitty :/ Yesterday I threw up twice. Nathan came into the bathroom while I was doing so and I asked him to leave. He goes into the living room and tells Colin not to go into the bathroom because Mom was exploding!!! Kids say the darndest things! lol
I need to update this bad boy. I have a ton of buttons of awesome bitches I need to add, I have some awards that I got forever ago that I need to post. I wish I could figure out all that html stuff so I could redo my blog look. That or win the lotto so I have some extra $$ to just pay for it, lol!!
I've been on a giveaway winning spree lately. I FINALLY won a CSN.com giveaway. Yay!!!! I also won a silver charm bracelet. I just wish some companies would get at me so I can do some giveaways :)
I should take my happy little ass to bed. 6 am will be here before I know it!