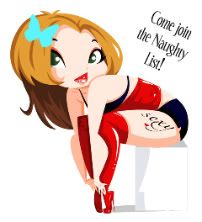 1. When do you feel like a naughty mommy?
I'd have to agree w/ aims. I've used the cereal excuse for dinner plenty of times. Hubs works 2 jobs 3 nights a week. I'm not going to make a big ass dinner for 2 kids who will barely eat it. The nights that I have made a decent dinner hubs doesn't eat what's left for him! wth?!? so I just stopped doing it. why bother especially when I feel like shit 80% of the time from my cancer meds?!?!
2. A Celebrity that makes you think naughty things!
Christopher Meloni...mmmm...you can handcuff me & have your way w/ me anyday.... ;)
3. Post a picture that is rated PG or PG13 but that always makes you think naughty!
hello did you see the above pic?!? yum!
4. Tell me about your first kiss!
It was in the woods, the summer between 7th & 8th grades and it was at CHURCH camp!! That's right bitches!!! lol They always say the shy, quiet ones are the ones to watch out for ;)
5. Do you "prune your lady garden"? For naughty reasons or other reasons?
hell yes! i shave it myself. i'm a fuckin wuss and am scared to get a brazillian!! i do it because i don't like hair down there plain & simple...