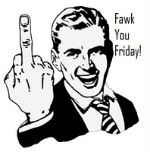 I love, love, love FAWK You Friday!! :)
Fawk You to all the people getting their panties in a wad about the button for FUF!! It's a button for a meme on a blog. Get over it!!!
Fawk You to bills. Nuff said!
Fawk You to you. Yeah you over there.....
Fawk You all the damn people that are afraid to drive above 5 mph in the snow. Hello this is Michigan snow is normal. Geeze!!!
Fawk You to the damn cat that keeps getting in my trash cans. I do not enjoy picking up garbage from all over my driveway in the freezing cold :/