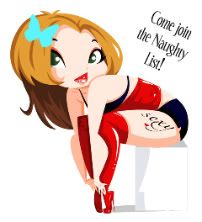 My question comes from
Envii
Have you ever gotten caught doing anything sexual by a family member or friend? Details not just a yes or no.
More than once ;)
One time I was so drunk at a party that I pulled Nick's pants down and gave him a blowjob in front of everyone. One of his friends took a bunch of pictures as well. Those are the pictures that inspired me to start my BJ Scrapbook.
Another time we were hanging out at one of Nick's friends houses and we snuck down to the basement and had sex on the washer.
There were many times when we were first dating that one or both of his parents came into his room while we were getting busy. I worked midnights back then so we always said we were watching movies. When they'd pop in I just acted like I fell asleep. They believed it every time!
Now my question for the person that follows me is...if you were offered a million dollars to do a porno, would you do it and if so what type would it be?