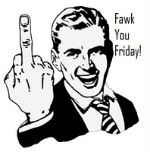 I know I haven't been around much but I'm back for FUF!!!!
In honor of being done with my Relay for Life I gotta give a BIG FU to cancer!!!!!!
My team raised $4,200 and the entire event raised $75,000!!!!!! Take that cancer. We WILL keep doing this until your gone!
Another FU to someone who will remain nameless.......STFU!!!! For realz!! You annoy and piss off everyone with all the crap that spews out of your mouth. Newsflash the world does not revolve around you, never has and never will. So get over it biatch!
My last FU for this week goes to the weather. Stop raining already!!! If another t-ball practice or game gets cancelled/postponed I'm gonna scream!!! The kids need to practice!!!!