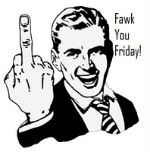 Happy Friday!! It's Fawk You time with
Boobies
&
Christy
:)
FAWK YOU~ to pain! I'm sick of being in pain EVERY.SINGLE.DAY. I slipped in the bathtub Wednesday night and my knee popped. Oh my lord it hurts SOOO bad. It hurts to sit down, get up, go up & down stairs. It sucks!!
FAWK YOU~ to waiting for test results. I hate waiting for my CT Scan & MRI results. I'll find out on Thursday. If the CT shows that my lymph nodes got bigger I'll more than likely have to start a new med. I've been on my current one 18 months so that scares me.
FAWK YOU~ to cancer. You suck!! Nuff said.
You should go over to Steph's place at
Babes Rockin Mami
and check me out. She featured me for her
Women who Rock
=)
Have a good weekend!!
XoXo