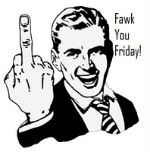 Go link up with
Boobies
and
Christy
to get your FU's outta the way before the long Labor Day weekend!!
FU to chemo brain! I put in a layaway of school clothes for the kids 2 weeks ago. I knew I wouldn't have it out before school started but wasn't too worried about it because it was mostly jeans and warmer shirts. No biggie because it's still hot as hell here. I realized today that the new backpacks and new shoes are in there. SMH!! I feel like a bad mom :/ When I told Nathan he said "that's ok Mom I don't need my jeans yet it's too hot!" Thank goodness! At least I'll have it all out before Colin starts pre-school on the 26th.
FU to the damn hood rat in the projects that called hubby's job and accused him of stealing a laptop. While I'm at it FU to hubby's supervisor who said "well I don't know that you didn't take it." Hubs had to write out how the job went. Every detail yada yada. He should be fine. Another supervisor told him that he was accused of stealing guns from a job before and nothing happened to him. Unless they have it on video it's he said/she said. So this bum will end up with a brand new free lap top. Loser! Hubs said he didn't even see one while he was there and the account didn't have internet. Whatever......grrrr
FU to the weather report. It's supposed to rain tomorrow. That just does not work for me. We have plans to go spend the day at the lake.
Happy Friday!! Have a fun & SAFE Labor Day Weekend!! =)))
XoXo