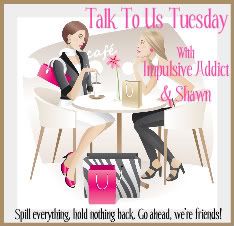 It has been
waaaaay
too long that I linked up with my
NEW
bloggy bestie
IA
and her girl
Shawn
for some Talk To Us Tuesday!!!
*
I finally decided to make this lil ole blog of mine a FB page. Go
LIKE ME
bishes!! I'll love you forever!! Really I will ;)) I've got 2 giveaways going on right now and I'll be having another one sooner than later hopefully. I want to do either a 250 or 300 follower giveaway. It will include an
EdenFantasys
GC and some other goodies :) Soooo??!!?? 250 or 300 help me decide!!!
*
My arm is killing me :/ Last night Nick & I watched a movie. I layed on the love seat. I wasn't laying on my arm though. When I got up it hurt like hell! It hurt for the rest of the night and all day. It really hurts worse now though. It's not swollen or anything so I don't know. I have so many things wrong with me it's ridiculous.
*
I had to have my eyes dilated at the eye doctor today and it gave me such a headache :( Colin had his 1st eye doc appointment and he did good. He wanted nothing to do with it at first but after a quick bathroom talking to by Daddy he was good to go. The kid loves going to the dentist though. Go figure. So far his vision is A-OK. Please cross your fingers and hope to sweet baby Jesus that the boys get their vision from daddy-o's side of the family. I'm blind as a bat and it
sucks
!! Nathan will be going for his turn on Monday.
*
In keeping with my resolution [?] to get more organized, get healthier & happier this year (which I never wrote about now that I think of it...ooppss) I'm making a more conscious effort to do me every day. Ya know do my hair, put on makeup and wear more than my comfy sweats. EVEN if the only place I am going is the drop off line at school. Granted if I feel like complete shiz from my treatment then the sweats will be on but so far I have noticed that I am feeling better about moi when I look like I give a crap. And I'm having fun playing with my makeup. Speaking of, I SOOOO want the
Naked Pallette from Urban Decay
. So if ya wanna hook a poor S@HM who's kicking some cancer booty up I'll happily let ya ;) Just sayin...
*
Relay for Life is starting. Yay!!!! I
love love love
RFL. I'm on the committee this year [eekk!!]. I'm chairing Team Development. I have a Leadership Summit to go to this weekend to learn a bunch of things. I'm excited =) Our Kick Off is on Feb 15th and I have to give a speech. My dad and I are are both speaking, as the survivor & caregiver. I'm nervous I hate being the center of attention and public speaking. Oh well it's for a good cause =]