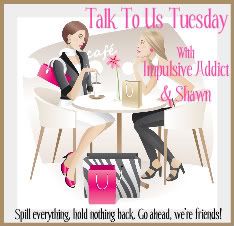 Hello hello!!
I'm here. Things have been a bit um shall we say crazy?? Family drama at it's best. I can't really get into it right now but I will one day when I'm feeling a bit better.
Speaking of feeling better. Will that day ever come?? I feel like shit and it sucks!! I know it could be worse but dang can't I catch a little break? :/ The side effects kicked in last night. Ugh I swear the cramps were so bad I was crying it hurt so bad. I go for more scans in 3 weeks so hopefully there will be more shrinkage! That always cheers me up!
Friday night Nick and I went to the gun range and I shot a gun for the first time ever!! It was fun. I was so nervous though. I shot a 9mm pistol. I was shaking so bad but it was still fun to do. I'd do it again. Next payday he wants to take me downtown to a restaurant we saw on Triple D called Traffic Jam and Snug. It looked yummy on tv so we will see :) We are also planning on going to Belamere Suites for our anniversary. Our anniversary is May 7th but we more than likely won't be going till the end of May. We have to work around my treatment schedule plus I will be so busy with Relay, which is the 12th-13th. I'm defiantly looking forward to getting away and relaxing. Maybe I can have a blate while we are in Ohio with Jayme and her husband. Whatcha think girl?
T-ball starts tonight. Nathan is so excited :) He has the same coach as last year. I am not doing team mom this year. There was no way I could manage that again. Not with being on the Relay committee and with treatment kicking my butt. It just wasn't happening.
Nick went up north over the weekend for a hunting dinner/raffle with my uncle so we had a play date with my BFF and her son. It was a blast =)
Matthew & Auntie Kelly
Nathan
Colin
This is the best shot I managed to get of all 3 of them, LOL
Mommy pushing her babies at the park <3
One last thing...if anyone would like to make a donation to my Relay for Life team you can do so HERE. Every dollar helps and it would mean so much to me and so many other cancer patients. One day there will be a cure!! If you make a donation I want you to know that I appreciate it more than you'll ever know!! THANK YOU!!!