It's my 1st time linking up w/ 5 Question Friday :) I'm bored & it looks like fun so here goes. Oh and I'm 26 followers away from 100. Yay!! Hopefully I'll get lots of new followers through this =)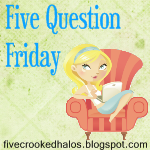 Rules for Five Question Friday: Copy the following questions to your blog post, answer them, then c'mon back for the linky (tomorrow)! Remember...if you don't have a blog but would like to play along, feel free to leave your answers in the comment of this blog post, or any post along the way!
1. What is one food you could eat everyday?pasta. spaghetti, lasagna, mac & cheese, just plain pasta noodles. Oh sooooo YUM!!!!
2. Are you working in the career you thought you would be when you were 18?At 18 I was dead set on being the athletic trainer for the Detroit Red Wings. I'm far from it but I wouldn't change it for the world <3 [except during the Stanley Cup Finals, those tickets are expensive as hell & a bitch to get!!] 3. What is something that you wish you would have done when you were younger and you didn't?I wish I hadn't been so damn shy in high school!!
4. What color are your kitchen walls?Ugh. My kitchen has a cream colored wallpaper w/ blue dots and a rooster border. The house came that way. I can not wait till we have $$ to redo the kitchen!!
5. Do you remember what your very first favorite song was?probably Hanging Tough by New Kids on the Block :)