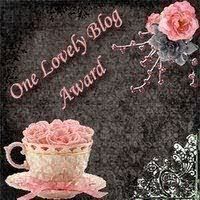 I am the proud recipient of another award.
Not Your Average Single Mama
lubs me =] You should defiantly check her out if you don't already. She rocks my socks off like no other!!
So I have to share 7 things about moi and pass the award along to 15 worthy bloggers.
On with the show............
1. I'm addicted to Pepsi & crushed ice. Yum yum yum!
2. I love fall decorations. If I could have my house decorated w/ pumpkins & leaves all year I would.
3. I LOVE reality shows. Big Brother, Teen Mom, 16 & Pregnant, RHWoOC, Sister Wives, Kate plus 8.
4. I have soooo many books that I could have my own mini library. I love reading. Always have :) I remember when I was in jr. high my aunt bought me a box of books that had ALL of the Babysitters Club and Sweet Valley High books in it. I was SOOOO happy :)
5. I would do anything to have lasik eye surgery. I'm so sick of wearing glasses & contacts!
6. I am SOOO excited to have my own Relay for Life team :) If you want to join my team or donate to an awesome cause you can go
HERE
:)
7. I am always cold freezing. Even in the summer :/
I'm crabby and tired so I'm passing this on to ALL of you lovelies =]