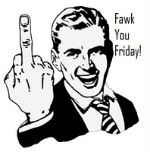 FAWK YOU to this heat!!! It was 100 + today. Fat girls don't do heat well!! :/ We went to Sears to buy another window AC for our bedroom and they were sold out. Boooo!! They did say they have a truck coming in the morning that may have some. Let's hope so!!
FAWK YOU back fat!! I bought a new dress for a wedding this weekend and I couldn't zip the back all the way :( Yeah yeah yeah I know I need to get back to the gym but it's soooooo hot....
FAWK YOU to my big feet! I hate you. I found so many cute shoes today and none were my size. Damn you my giant 11 wides!!!!