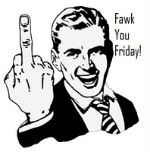 They encourage the use of the work fawk, fuck, fu. However you want to say it they are all for it.
So on to my fawk's for this week.
Fawk You to a person who shall remain un-named. You are not better than everyone else, the world does not revolve around you and no one in this family can stand you!!! What I wouldn't do for you to just go away and never come back!!
Fawk You to shitty ass friends who stop talking to you for no reason. Your loss.
Fawk You to that fact that my flip flop wearing days are coming to an end :( I'd totally wear them all year but frost bitten toes are exactly pretty ya know?!?
Have a good weekend loves!! Tomorrow is Sweetest Day and my parents anniversary. 34 years and still going strong <3